God has answered your prayers. Many evangelists like America's Will Graham have been called to Australia's Outback to keep the revival in over 25 Aboriginal communities going and growing.
To feed the fire down under, A.C.T.S. is entirely focused on building our Scripture distribution network of Volunteer Evangelists throughout the Outback. As a result, we have an unprecedented demand for outreach and discipling materials. The Australian Bible Society, Campus Crusade and other Partners have offered matching grants to get Christ's word out!
We need your help!
To free Australia's Outback Aboriginal children by Christ, we urge your action prayer. A.C.T.S. growing network of Volunteer Evangelists' ability to distribute Bibles and Christian DVDs has outstripped our capacity to raise the necessary funds. This presents you with the opportunity to send Bibles and "Jesus for Children" DVDs (www.christiananswers.net) at just the right time through A.C.T.S. most efficient Volunteer Evangelists at only $5.00 each.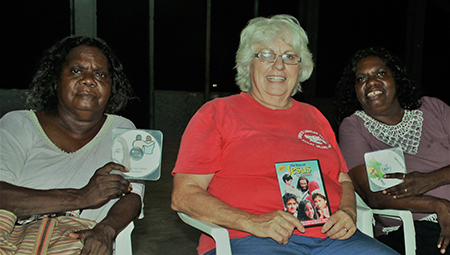 What better Christmas present than the gift of Jesus and positive change in a hopeless community?
Most active Outback Evangelists have fresh supplies of outreach and discipling materials. We are encouraging them to give them away by year end.
You can support our year end intensive outreach by….
Sponsoring a "Jesus for Children" DVD & Bible pack to be sent regularly to Volunteer Evangelists in the Outback for a $39 monthly donation.
Providing an A.C.T.S. Volunteer Evangelist ministering in the Outback with a fresh stock of Bibles and Christian DVD's @$4.50 each.
Go to the How You Can Help page and using your PayPal, Master Card, or Visa account, make your gift a Christmas gift which will be life changing to many children ….now!!
Please pray for God to show you what you can do to bring the Good News to Australia's lost, neglected, sacred children, especially in the Outback.
Pray that God will send His workers from all over the world to free Autralia's Outback Aboriginal children by Christ. Then pray…for our need in the Outback.
We need your help now.
Mailed Donations can be made payable to A.C.T.S., and sent to:
A.C.T.S., Unit 3, 4 Mugga Way, Tweed Heads, 2485, N.S.W., in Australia or
A.C.T.S., Attention: Lovvolls, 32 Hillcrest Rd, Reading, MA 01867, in the USA
"Love like Christ!"
Ref. Fred & Carol Schaeffer, A.C.T.S. Inc.
Save
Save
Save